Bikini waxing is the epilation of pubic hair in and around the pubic region by the use of wax. While the practice is mainly associated with women, men at times also remove pubic hair. With certain styles of women's swimwear, pubic hair may become visible around the crotch area of a swimsuit. Visible pubic hair is widely culturally disapproved of and considered to be embarrassing, and so is at times removed.
However, some people also remove pubic hair that is not exposed, for aesthetic, personal hygiene, cultural, fashion or other reasons.The bikini line delineates the part of a woman's pubic area which would normally be covered by the bottom part of a swimsuit. In the context of waxing, it is generally understood to describe any pubic hair visible beyond the boundaries of a swimsuit.Epilation is usually also performed on the upper leg.
Pubic hair can be removed in a number of ways, including waxing, shaving, sugaring or using chemical depilatory creams. Hair that is not removed may be trimmed.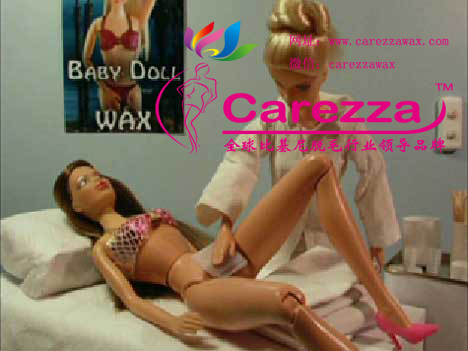 In Middle Eastern societies, removal of the female body hair has been considered proper hygiene, necessitated by local customs, for many centuries.In Islam, this is known as an act of Fitrah. Evidence of pubic hair removal in ancient India dates back to 4000 to 3000 BCE.According to ethnologist F. Fawcett, writing in 1901, he had observed the removal of body hair, including pubic hair about the vulva, as a custom of women from theHindu Nair caste.
In Western societies, removal of female body hair (except for head hair, eyelashes and eyebrows) has traditionally been considered appropriate when it was visible. Visible pubic hair continues to be widely culturally disapproved and considered to be embarrassing, and so is at times removed.
In relation to pubic hair, with the reduction in the size of swimsuits, especially since the coming into fashion and popularity of the bikini after 1946, the styling of pubic hair has also come into vogue.The practice to remove even more pubic hair continued with the popularity or fashion of even briefer swimwear, such as the thong, which exposed the buttocks.Changes in lingerie styles also encouraged the removal of pubic hair,and the nude crotch—i.e., the total removal of pubic hair, such as in a full beijing Brazilian or the Sphinx style—became considered by many to be erotic and glamorous. A nude crotch is considered by some to be more youthful looking.According to Tschachler, Devine and Draxlbauer, removal of all visible body hair has come to be seen as an important aspect of femininity.
Pubic hair may be styled into several basic styleswhich may have differing names.Different salons use different names for common types of waxing, for example referring to a Brazilian with a "landing strip" as a "Mohican" or a Hollywood as "Full Monty".Natural, au naturel, bush does not involve any trimming or styling.Trimmed or cut involves the shortening of pubic hair but not its removal or shaping, inner thighs may be shaved.Triangle, or bikini line involves hair removal (generally waxed) from the sides to form a triangle so that pubic hair cannot be seen while wearing swimwear.American waxing is the removal of only the pubic hair that is exposed by a swimsuit, depending on the style of the swimsuit. For a bikini, it would be hair at the top of thethighs and under the navel. It is also known as a basic bikini wax.
or a bikini line wax.French waxing leaves a vertical strip in front (sometimes called a landing/Playboy strip), two to three finger-widths long just above the vulva, and 4 cm (1½ inches) wide. It is also known as a partial Brazilian wax.Hair of the peri-anal area and labia may be removed. Removal of hair from these areas is also known as the Playboy wax or G-waxing. The landing strip wax has become popular with models who must wear garments of an extreme narrowness in the crotch region.Brazilian waxing is the removal of all hair in the pelvic area, front and back, while sometimes leaving a thin strip of hair on the mons pubis.
It can be used by those who wear thong bikinis.It is a form of bikini waxing, and involves the complete removal of hair from the buttocks and adjacent to the anus, perineum and vulva (labia majora and mons pubis). Brazilian waxing is also known as a full Brazilian wax, full bikini wax, Hollywood wax or the Sphinx (named after the naked breed of cat).
Some women trim, but keep hair on their labia, while removing the pubic hair on the mons pubis.
Carezza Wax & Beauty Centrally situated in one of Beijing's most fashionable CBD and SANITUN. Provides affordable luxury price.
We strive to bring you the highest quality health and beauty services at the best possible prices so you can affordably escape from life's daily pressures to relax and renew. you'll get the best value on quality services at Carezza Beautiful Day Spa. For More information Please Visit Home Page :
http://www.carezzaspa.com