The wax wasn't softened after I put it in the microwave for the recommended period of time, what should I do? Put the jar back in the microwave for 10 second increments until it has the consistency of thick honey. You might find that there is a 'hot spot' in the jar – a spot where the wax is completely fluid with hard wax around it. Leave the wax for 1 minute and then gently stir it mixing the more fluid parts with the hard parts. Please remember to test a little bit on the inside of your wrist to check the temperature before proceeding with the treatment.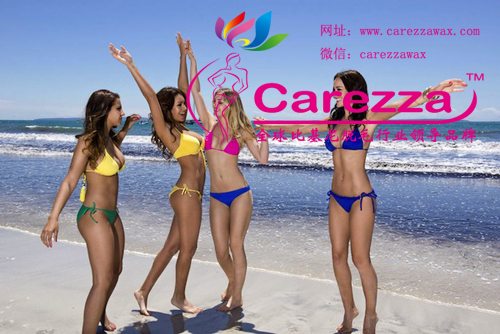 What do I do if I accidentally get the wax in a place where I do not want to remove hair? You can try removing it by using the Nad's Soothing and Finishing Wipes or sufficient amounts of baby oil. Otherwise you will have to trim off the hair under the wax. What areas of the body can I use Naughty Nad's on? Naughty Nad's is suitable for areas with thicker, coarser hair like the bikini area or underarms. For legs and arms we recommend you use one of our other products: Nad's Natural Hair Removal Gel, Nad's Hair Removal Strips, Nad's HandsFree Hair Removal Creme or Nad's Smoothing Gel Hair Remover.
For the face we recommend Nad's Facial Wand or Nad's Facial Hair Removal Strips. How big an area should I treat at one time? This depends on which area you are treating. The more sensitive the area, the smaller the treated area should be. In very sensitive areas, we recommend you do not put on more than 2 to 3 cm at a time. Whereas if it is the bikini line, you can treat large patches up to 10 cm even. Where do I start? You should start working your way from the outside inwards. So start with your bikini line and then work inwards. Are the Bikini shape stickers reusable? No, they can only be used once. What are the sticks for? The orange sticks can be used for precision application of the hard wax close to the bikini shape and for finishing touches after removing the shape. How many uses do you get out of jar? This will depend on the area you need to treat: For a complete Brazilian: 1 - 2 uses. For creating one of the shapes: 2 -3 uses For bikini line or a touch up: 3 - 4 uses I did not get the expected shape. What do I do? Did you try one of the more complicated shapes (Bermuda Triangle, Heart Breaker, Thunder Struck)? If so, you may need to have a go at the Landing Strip first to gain some more experience.
It is also always a good idea to enlist some help, especially if you are not an experienced waxer. The wax breaks off in pieces when I try to remove it, what went wrong? You may have applied the wax too thinly. The hair needs to be completely covered. Also, the wax may have been left on the skin too long. The wax should be pliable when removed (not brittle). No hair came off when I used the wax, what did I do wrong? Hair may not come out if: You use the Nad's Soothing & Finishing oil wipes before using the wax. The area was not clean, dry and oil-free. Your skin was not held taut. You did not pull off in the opposite direction of hair growth. If you slowly pulled or dragged the wax off. If your hair was shorter than 5mm. The wax will not grip onto shorter hair. I have experienced bruising/swelling/irritation when using the product, what did I do wrong? Do you have any prior experience in waxing? Either with cold wax, warm wax or hard wax?
The bikini area is a particularly sensitive area; I would recommend you practice on a less sensitive area like your leg before you proceed with the bikini area. Are you a diabetic/take oral retinoids/is your skin very inelastic or dry? If so, you should not be using this product. For a detailed explanation of suitable skins types, you should refer to our instruction leaflet. Was the hair very long? We advise to trim the hair to 5mm, as longer hair will be more painful to remove and you might
experience bruising/swelling/irritation. Did you remember to keep the skin taut as you pulled the wax off? This is essential to prevent bruising/swelling/irritation. Did you pull the wax up rather than close to the skin? This can cause bruising/swelling/irritation. Did you go over the same area more than twice? Do not re-wax the area if your skin is irritated. Did you use the product just before or during your period? Your skin is really sensitive during this time and I wouldn't recommend waxing until after your period. You will find that it will be a far less painful experience then. If it is none of the above: unfortunately some people are more susceptible to
bruising/swelling/irritation than others, this is why we recommend you try the wax on a small area first and wait for 24 hours before commencing treatment. The bikini shape did not adhere properly/stay in place, what went wrong? The shapes will not adhere if your skin in not oil free and dry. Your hair must be 5mm long to allow the shape to adhere. You need to hold the shape in place while you apply the wax. It is also always a good idea to enlist some help when using shapes, especially if you are not an experienced waxer.
Carezza Wax & Beauty Centrally situated in one of Beijing's most fashionable CBD and SANITUN. Provides affordable luxury price.
We strive to bring you the highest quality health and beauty services at the best possible prices so you can affordably escape from life's daily pressures to relax and renew. you'll get the best value on quality services at Carezza Beautiful Day Spa. For More information Please Visit Home Page :
http://www.carezzaspa.com