Your esthetician can help you accomplish temporary hair removal at the body dynamic. Waxing is a quick, efficient method of removing unwanted body hair. The procedure is safe, easy, and gives results that last several weeks because the hair is removed from the root. Although waxing is not a permanent method of hair removal, Brazilian Wax in Beijingwith repeated waxing, the follicles tend to weaken and hair growth becomes sparser.
Any area of the body may be waxed for both women and men. You will feel a slight stinging sensation like pulling off a bandage. The most commonly requested waxing treatments are on the eyebrows, upper lip, legs, and bikini line.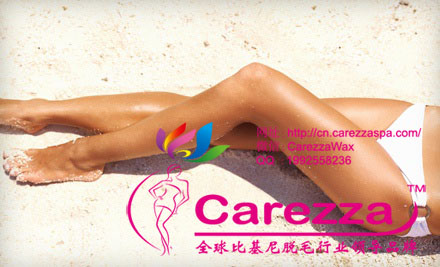 Internationally known Cirepil depilatory waxes are used to remove superfluous hair from the face and body. Cirepil waxes heat at a low temperature, are not sticky, and contain anti-irritant ingredients helping to soothe the skin and leave it creamy and smooth. We recommend getting waxing treatments 3-5 days prior to a special occasion or vacation.Brazilian Wax in Beijing
Relax and Wax No Scream Cream is recommended to reduce the pain of waxing. NO SCREAM CREAM is a topical anesthetic lotion that absorbs into the skin and will not interfere with your waxing service. Apply 30 to 45 minutes prior to your waxing and relax. You will never want to be waxed again without it.
Carezza Wax & Beauty Centrally situated in one of Beijing's most fashionable CBD and SANITUN. Provides affordable luxury price.
We strive to bring you the highest quality health and beauty services at the best possible prices so you can affordably escape from life's daily pressures to relax and renew. you'll get the best value on quality services at Carezza Beautiful Day Spa. For More information Please Visit Home Page :
http://www.carezzaspa.com